Be the destination®
Now:
Trademark Holder Landrush
December 1, 2020 to
February 5, 2021
February 10, 2021 to
March 2, 2021
Now:
General Availability
Begins March 2, 2021
End your search for the perfect domain with .Quest
.Quest is an affordable domain extension that helps your audience easily find your website. This domain is for those who want the breadth of their experience and years of dedication to be established online. Lead your customers, fans, and members to their goals on a domain that shows that you have the expertise that they're looking for.
POWERED BY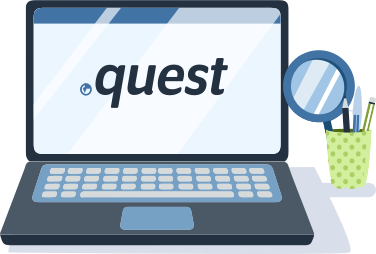 Domain Registrars
Carry .Quest Domains
Lead your audience to the destination they seek with .Quest
Get YourProduct.Quest to show your customers you have the solution to their search.
Attract clients or pass your wisdom on to others via YourSkill.Quest.
Gather donations and share information that benefits others through YourOrganization.Quest.
Secure YourBrand.Quest and give expert advice as you lead your customers to their goals.
Establish your business as the go-to authority in your market using YourIndustry.Quest.
Chronicle your progress towards professional and personal goals on YourFirstName.Quest.
The domain for gurus, knowledgeable experts, and authorities in any field
Attract clients with the only domain ending that effectively shows their audience that

they will guide them to the end of their search.

Brand their business on a TLD

made for those who are always pursuing excellence.

Mark their website as the leading landing place for their audience with

a TLD that signifies they are the premier destination.

Empower their community with a place to gather at

a web address that complements the meaning of their shared journey.

Showcase their progress towards personal growth on

a domain name that indicates their dedication to going after their goals.
Get Our Registrar Newsletter
Stay up to date on .Quest & XYZ Registry news for domain registrars.
By submitting this form, you give your consent to nic.quest to process and use the data you submit to help you with your request(s) or improve our services. You also agree to our Privacy Policy and Terms & Conditions.